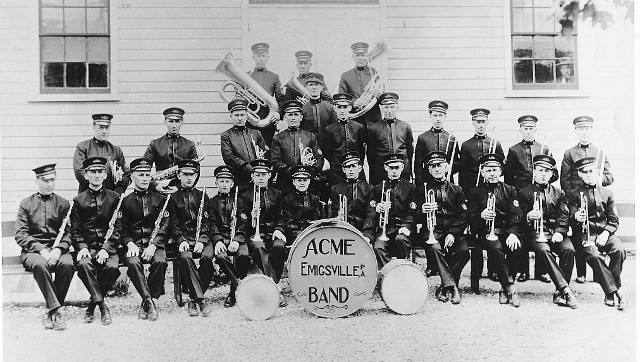 The Emigsville Band, originally known as the Acme Cornet Band, was organized in 1878. The band met in the old school house in Emigsville with Henry L. Dinderman as the first director. The membership consisted of 16 men and was in existence for 20 years.
On September 6, 1906, the Acme Cornet Band reorganized. The first meeting was held in the engine room of the Acme Wagon Works. There were 18 charter members of the band and R.B. Moner became the first director.
The present band hall was erected in 1918 at a cost of $1800, marking for the band a period of progress and advancement.
The band moved into the new band hall on Thanksgiving Day, 1918 and completed payments on the building in December 1926. At this point the band had a membership of 22 instrumentalists.
During the early years the group had various means of transportation. The men walked, used hay-laden wagons, livery horses, stage coach and four horses, trolley, motor trucks, motor buses, and now automobiles.
Today the band has a membership of over 50 instrumentalists and performs many concerts each season for picnics and community events in the Central Pennsylvania area.